Have you ever done something kind for a stranger?
It can be as simple as returning something they dropped or paying for their order at a restaurant. Every kind act makes a difference! Morris-Jenkins technicians are all about random acts of kindness, and we love it! Not only are our technicians all-around nice people to begin with, but people catch them going the extra mile to help others all the time. Here are just a few of the times they've restored our faith in humanity!
Broken Down Bike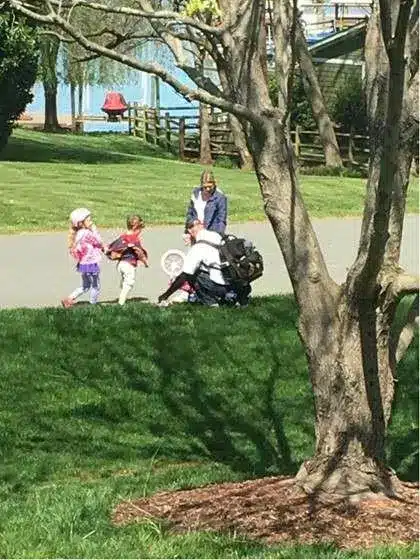 You've seen it before: a teary-eyed little one with a broken bike. How could you resist the urge to help save the kid's day? Mark certainly couldn't just stand by while this poor little girl walked her broken bike home! Fortunately, technicians are handy with tools, and they've got trucks full of all the tools they could ever need. Even tools to help fix a bike! During a normal service call, Mark spotted a little girl with a broken bike while he was headed to his truck to get more tools. He stopped what he was doing and took the time to save the day! In fact, the customer he was helping that day witnessed the whole thing and even left a review about it:
When Mark spotted the little girl with her broken bike, our customer took the opportunity to capture a photo of his act of kindness!"Hi, I just wanted to say what a great experience we had with our technician that came to our house….he was on time…..called ahead…..and was so thorough in checking our system out. He was so professional and knew what he was talking about. But what was so impressive, as he went out to get his tools, he noticed a little girl on her bike and was having trouble….he stopped what he was doing and went over to help her and her mom. Apparently, the little girl's bike chain came off. Mark took the time to fix the bike and sent them on their way. I was so impressed I took a picture….You hire the best people ever and it showed that day. Thank you, Mark, and thank you, Morris Jenkins."
Recommended: "The Child Life and Special Recognition Programs at Levine Children's Hospital"
Safe at Home
One summer morning, Jeremy, one of our plumbers, was doing his job just like any other day. While he was working, he saw a man out for a walk with his dog. When the man started to look like he wasn't feeling well, Jeremy stopped what he was doing and rushed over to help. The man told him he was starting to feel weak, so Jeremy helped him make it to his home. He got the man to his chair so he could sit and rest, and he waited to make sure the man was ok before leaving.
Fallen Flag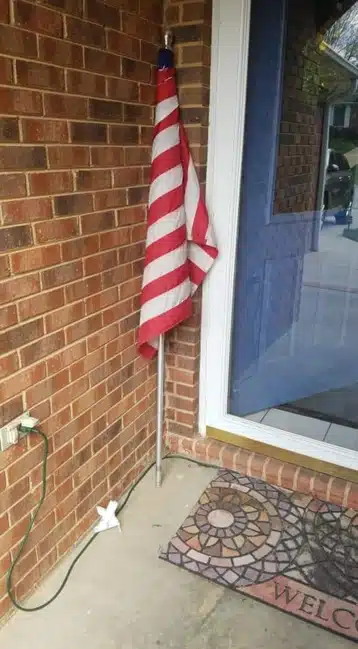 It was a windy afternoon when Phil the technician was driving through a neighborhood and spotted a flag on the ground. He pulled over and picked up the flag, brushing it off and setting it carefully next to the homeowner's door. When he rang the bell, it appeared no one was home, so he left a note. The homeowner was so grateful that Phil took the time to pick up her fallen flag!
The homeowner even sent us a photo of her flag after Phil placed it nicely at her front door, and she told us what his note said:
"Hi, I saw your flag on the ground as I passed by. The mount looks like it gave out in the wind. Sorry I missed you. -Phil with Morris-Jenkins"
Rescue Mission
Firefighters may save cats from trees, but what happens if Fluffy gets stuck in the attic?
Fortunately for Shamala, she hired some superheroes to replace her furnace and AC! When her kitty got stuck in a strange spot in the attic, a Morris-Jenkins technician showed extreme patience as he lured the cat out with food and carried her back to her family. He reunited the family just because he knew it was the right thing to do! Shamala was so grateful that she wrote about her experience:
Our techs love animals, so it's no surprise they were willing to help save a family's precious pet cat!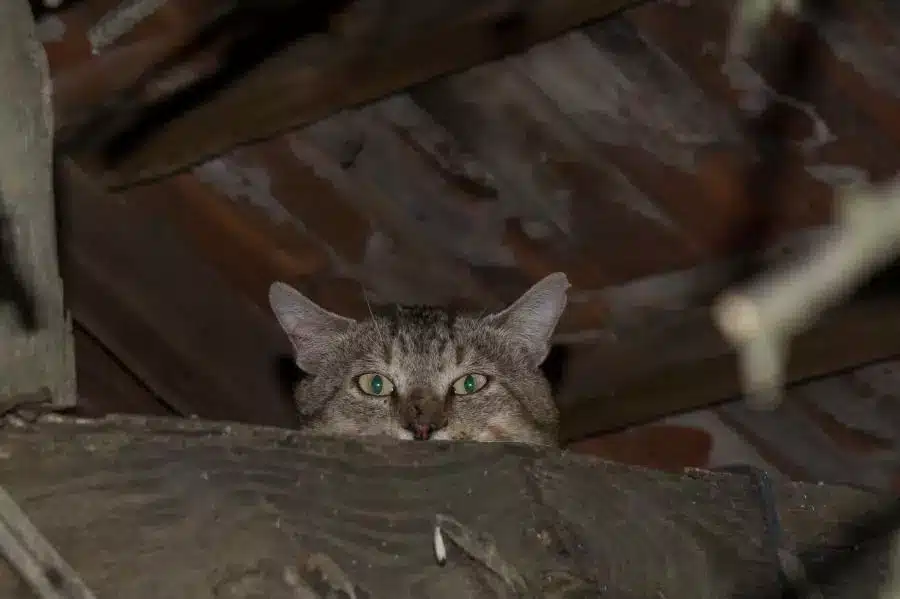 "Morris-Jenkins technicians came out to replace our furnace and one of our AC units…little did they know… they would be playing cat rescue as well. They were so fast, quiet while I worked from home, and talked me through every step of the process. As me and my daughter ate lunch outside, we heard our cat meowing and couldn't figure out where she was. The tech realized she had gotten down in a very small crevice in the attic where no one could reach her. Without any hesitation (I have no idea if he even likes animals lol but he sure seemed like a natural), he coaxed her out with food and carried our little feisty girl down to us without fear, and she is a feisty one. He took our problem that had nothing to do with the job he was there to do and resolved it for us without any question or hesitation. He went above the call of duty and my family and I are forever grateful."
Related: "Morris-Jenkins Loves Levine Children's Hospital"
Keeping Cool in Hard Times
One day, Tanner the technician visited a Priority Advantage® Member for routine service. It turned out their unit was in desperate need of replacement, but the man was terminally ill. Tanner was heartbroken when he heard this, and he wanted the man to be comfortable in his own home. Instead of leaving the man in the sweltering heat of his house, Tanner went to the store and purchased some window units with his own money for the man to keep him comfortable during the hot summer weather.
Making the World a Better Place
With each random act of kindness, you make the world a better place! We're proud to say our employees genuinely care about others, and they aren't afraid to show it. Take the time today to make someone's day a little brighter—you won't regret it!
Can't get enough of the heartwarming stories? Check out our other article about the amazing things our techs do to make the world brighter!