Your AC isn't working, and you've been told you need to replace it. But you're not ready to give up yet!
If another company told you it's time to replace your unit, we'll come give you a free second opinion.
We just wanna make sure you have all the information you need about your air conditioner and what's wrong. If your AC can be repaired instead, we'd love to fix it and save you from having to buy a new system sooner than you need!
An Easy Fix
It breaks our hearts when we see other companies taking shortcuts with their customers. Your family deserves the best! That's why we promise to be thorough when we look at your AC. Sometimes, the first diagnosis is correct, but often, the solution is easier and cheaper than replacing the unit. Sometimes, the answer is actually a simple repair!
Just like if you ask a sports fan about their favorite team, our techs are passionate about what they do and can easily talk about it all day. They'd love to explain things to you whenever something doesn't make sense! And we don't believe in talking above your head with confusing industry jargon. We want you to understand your heating and cooling system and what's going on with it so you can make an informed decision about the next steps for your family, whether you decide to go with a repair or a replacement.
Choose Someone You Can Trust
Have you heard the phrase "trust your gut" before?
Sometimes, your gut knows best. People can tell when they do or don't trust someone pretty quickly. It's natural to question things and wanna make sure you're making the best decision for your family, your home, and your wallet!
We wanna build that trusting relationship with you and your family. Whether it's by sitting down with you and using drawings to explain your air conditioner, or if it's taking pictures of your furnace to show you what we found, we want you to feel comfortable and confident through the process.
People tell us our technicians are like having family or friends over! The people of the Carolinas have trusted us since 1958, and we take that trust seriously. Wanna see some of the amazing things our techs have done just because they're truly sweet people? Check out our article, 5 Times Morris-Jenkins Restored My Faith in Humanity!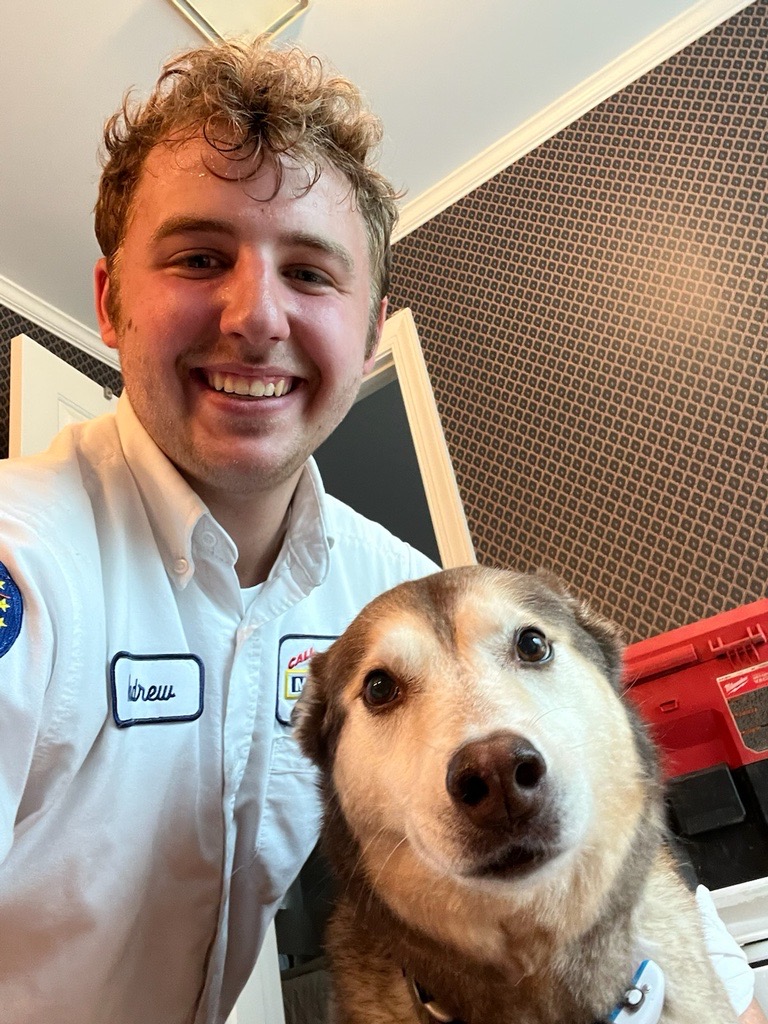 Get the Help You Need When You Need It
When was the last time you bought something like a new phone, dishwasher, or lawnmower and it had some kind of issues shortly after buying it? Unfortunately, new technology can still have problems from time to time. Did the company stand behind their product and offer you any support?
If you decide to go with a replacement for your system, it's best to make sure the company you pick can stand behind their work and has the staff to take care of any issues that may arise. When you make the decision to have Morris-Jenkins install your new AC, furnace, or heat pump, you're choosing peace of mind! We have a large team of technicians available to help you with your unit when you need it most— even on weekends, nights, and holidays!
You might like: How to Know If It's Time to Replace Your Air Conditioner
You Deserve to Be Comfortable
Your home is your sanctuary. It's where you go at the end of a long day to rest, and the last thing you need is for your home to be too hot or too cold. Sometimes, other companies can't pencil you into their schedule for a week or more, and you're the one who suffers. If your house isn't comfortable, you shouldn't have to wait just for someone to look at your AC. When you want your free second opinion (or whenever you need any kind of service), just call, text, or book online! Morris-Jenkins gets there faster than anyone!
Your Neighbors Trust Morris-Jenkins
Morris-Jenkins is the most trusted heating, air, and plumbing service provider and installer in the greater Charlotte area. The reviews speak for themselves!
I called for a second opinion estimate on my HVAC and was able to get Rich – (best technician at Morris-Jenkins) to come to my home. Rich is a sweet guy with a British accent. He was able to explain exactly what the problem was and what needs to be done in layman's terms. I truly appreciate him taking the time to explain things as I'm a 1st timer – 1 year in home buyer. MJ's employees are great, the only reason I didn't go with them is because I have a warrantee with my old HVAC company – parts and labor free. Thanks Rich for pointing out that I should check to see if I did… and I do! Happy customer – I recommend MORRIS-JENKINS!

– CiCi C.
Almost made a big mistake when another company wrongly diagnosed what was wrong with our heat and wouldn't be able to get the part they needed for another two weeks (it's currently the coldest time of year). I contacted Morris-Jenkins for a second opinion, and they were able to send someone out that day free of charge. Ethan and Gabe showed and totally saved the day (months?)! They figured out what the real problem was and made the repair right then and there. We had been without heat for 4 days leading up to this, so I was ecstatic! Their customer service was incredible, and Ethan was very thorough with breaking down the issue in a way that we could see and understand. We'll definitely be repeat customers from now on.

– Katy G.
My AC started acting up sometime last week. I had another company out this morning for a diagnostic and they concluded that my compressor had died because of a surge, most likely from one of the many storms we've had recently. They wanted to replace the whole outside unit for a hefty price. On a recommendation from a friend, I contacted Morris-Jenkins for a free second opinion. They were able to get a tech out within hours where with other companies I had called would take days. When Scott got here, he was able to quickly diagnose the actual problem (too much refrigerant causing a pressure build up). He was professional and knowledgeable, talking through everything he was doing and explaining how the system works in a way that was non-HVAC-person friendly. I actually understood everything and was amazed he was able to diagnose the issue so quickly. I started the day in a tizzy thinking I was about to spend 2k on a new AC unit and ended the day completely in awe that it was actually a simple fix that took less than a half hour. Great customer service and not just a salesperson trying to sell me something I don't need. It's hard to express in words how relieved and happy I am with the outcome of my situation. I'm usually wary of big companies who spend a lot of money on advertising, but this experience has made me rethink my mistrust. Thank you, Scott!! Truly impressed and would call again for service in a heartbeat 🙂

– KT. K.
Wanna schedule a second opinion? Even if you just have some questions, we'd be happy to help!